Hubbard Hall Center for the Arts and Education is Proud to Announce the Worldwide Publications of Managing Arts Organizations & Managing the Arts in Rural Areas by Executive & Artistic Director David Andrew Snider.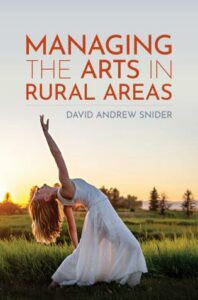 Why do the arts matter so much in rural areas? The arts are needed now more than ever to heal the social fabric, grow the population, drive the local economy and, in some cases, replace lost industries. Post-pandemic, a significant portion of the population hungers for hands-on, in-person arts experiences at a human scale. At the same time, rural areas are ripe with innovation, community connections, and an entrepreneurial spirit that fits well with creativity and arts-based community engagement. As rural areas continue to evolve past their previous ties to agriculture, industry, and mining, the arts offer new ways to enrich communities, spark local economies, and create tourist destinations, in tandem with their glorious surroundings.
One goal of this book is to help dispel the myth of rural equaling white people. Six of the twelve arts organizations featured in this book are led by people of color and/or serve populations in which people of color are the majority. Eleven of the twelve organizations are led in part or entirely by female-identifying arts leaders. These numbers are happy accidents and not criteria of the selection or search process. It just turns out that, when you start looking for wonderful rural arts organizations, you find diversity.
Managing the Arts in Rural Areas explores the challenges facing rural communities today and the positive impacts provided by the arts on economic development, diversity, equity, inclusion and access, fundraising, arts education, and community development. With dynamic case studies on arts organizations in rural areas from Alaska to Alabama and from Montana to Arizona, Managing the Arts in Rural Areas gives readers deep insights into how the arts are helping to define and grow rural areas today. Released June 8th, 2023
Available to order now on Amazon, from Rowman & Littlefield , or from Cambridge, New York's local bookstore Battenkill Books. Readers ordering through Battenkill Books will receive a copy signed by the author.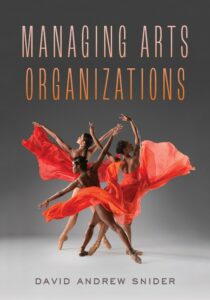 Since the pandemic things have changed, to say the least. The arts field is resizing, recombining, rethinking. Gone are the days of long term subscribers and reliable audiences. Arts organizations must become more flexible, adaptive, and nimble to survive and thrive in today's world. Arts managers must engage, adapt, and innovate. Great management invites creativity. Vibrant artistry welcomes strong management. Managing Arts Organizations can help.
In Managing Arts Organizations, David Andrew Snider provides a playbook for navigating arts management in this new era and seeks to inspire a new generation of arts managers. Each chapter is focused on a specific topic, with principles, stories, exercises, advice, and best practices related to that topic. The appendix includes eight case studies, each illuminating issues in arts management via a real world scenario or organization. These narratives will enhance the reader's understanding of topics including financial management, marketing, programming, Diversity, Equity, and Inclusion efforts, and accessibility across multiple disciplines. Released January 15th, 2022. Cover Photo by Rachel Neville.
Available to order now on Amazon, from Rowman & Littlefield , or from Cambridge, New York's local bookstore Battenkill Books. Readers ordering through Battenkill Books will receive a copy signed by the author.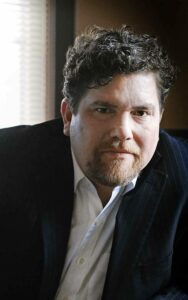 Expert Interviews Includes in-depth interviews with eleven arts leaders from a variety of arts disciplines throughout the United States, including Ben Cameron, The Jerome Foundation; Karen Zacarías, playwright; Anna Glass, Dance Theatre of Harlem; Sarah Craig, Caffé Lena; Robert Barry Fleming, Actors Theatre of Louisville; Nancy Yao Maasbach, Museum of Chinese in America; Lisa Richards Toney, Association of Performing Arts Professionals; Chad Bauman, Milwaukee Rep; Mary Ceruti, Walker Art Center; C. Brian Williams, Step Afrika!; and Deborah Cullinan, Yerba Buena Center for the Arts.
An instructor's manual is available for professors who adopt this book as a required textbook.
About the Author David Andrew Snider has more than twenty-five years of experience as a director, educator, producer, and administrator. Currently he is the executive and artistic director of the Hubbard Hall Center for the Arts and Education in Cambridge, NY, and a lecturer in the arts administration program at Skidmore College.  thedavidsnider.com
For more information, images, and interview requests: 
David Andrew Snider
Executive & Artistic Director
Hubbard Hall Center for the Arts and Education
25 East Main St.
Cambridge, NY 12816
david@hubbardhall.org
518-677-2495 x. 313
www.hubbardhall.org
thedavidsnider.com
Preferred Pronouns – he/him/his
For Publicity questions, contact Ashley Durrer at Pubvendo: ashley@pubvendo.com
For Speaking Engagements: managingartsorganizations@gmail.com
Publisher Rowman & Littlefield