Our community is in need of healing. At the same time, our organizational capacity is severely diminished. Staffing has been cut to the core. Our budget is less than 50% of what it was before the pandemic. Attendance for live events will be limited for the foreseeable future, as will attendance for our classes. But our mission – cultivating, sustaining and promoting the cultural life of our rural community – is more important than ever. How can we serve our community's needs with such diminished capacity?
We must realize that this crisis is also an opportunity. An opportunity to refocus our work and serve our community better. 
The Healing Initiative will focus our work towards healing our community on multiple levels with many avenues of engagement. We will provide arts-based healing experiences on a smaller scale, including live performances with smaller audiences, workshops and classes with fewer participants, and even one-on-one and online offerings aimed at healing. Whenever possible and suitable, we will offer free offerings to eliminate any economic barrier. Social Justice will become a larger focus of our work, with socio-economic, identity, racial, and aging issues in our community being served more directly and openly. We will engage our community in an online conversation about the arts and social justice, while aiming our work at seeking and soliciting opportunities for increased understanding and healing through art and community. We will revitalize Hubbard Hall as a Community Commons, where multiple points of view can be heard, recognized, and considered, similar to how we functioned under the original leadership of Mary Hubbard from 1884-1927.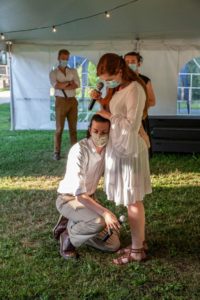 These efforts will be led by the executive & artistic director, the artistic & administrative associate, and a cadre of volunteers interested in helping serve this work and heal our community together. Our efforts will be flexible, based on interests and capacity, and will grow in response to needs, interests, and our collective learning.
We will continue our beloved on campus classes, while implementing online and live events guided by this mandate for healing and within our reduced capacity. Likely, this will result in a smaller scale of producing and presenting until the larger arts ecosystem and economy can recover, but with an increase in singular workshops, workshop series aimed at community development, and online activity. Part of this online activity may also include performance, workshop, and speaker offerings from around the world, curated by Hubbard Hall for our local audiences.
A few assumptions based on our pandemic experience and recent national surveys:
Arts organizations who serve their communities directly and authentically are the most likely to succeed in the wake of COVID-19. This perhaps obvious fact has been confirmed by two national surveys conducted by the Wallace Foundation and the NYC-based research firm La Placa Cohen.
It will likely take years for audiences to fully return to pre-COVID size events, in part due to real or perceived barriers in cost, travel, and safety.
Digital content is here to stay. Audiences expect arts organizations to continue to develop and offer excellent digital and online offerings. Digital content has proven to be reaching more diverse audiences, at least racially and socio-economically.
Audiences expect arts organizations to actively support social justice issues. Shared values are more important than ever. Demonstrating those values through programming and activities is critical.
We intend for all of this activity to heal and grow the sinews of our community, while increasing our ability to serve within this new reality.