We are now accepting Playbill submissions for the 2019/20 Season!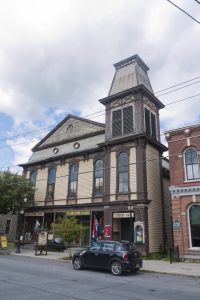 As Hubbard Hall celebrates its 41st anniversary, we are honored that our center for arts and education in Cambridge remains a vital hub for creative collaboration. In addition to the Battenkill Chorale, Hubbard Hall partners with Music from Salem, Cambridge Central & Hoosick School Districts, Bennington College, and Skidmore College, as well as individual teachers and practitioners in theater, dance, music, movement, visual art, wellness, gardening, and more, all of which keeps the Hall humming year-round. Hubbard Hall remains an arts incubator, a training ground for artists of all ages, and an economic driver for our region. We are dedicated to cultivating, sustaining, and promoting the cultural life of our rural community. Recognized by the New York State Council on the Arts as one of the state's most dynamic rural arts providers, Hubbard Hall is a model for community-based arts organizations.
Whether you are new to Hubbard Hall or an existing supporter, sponsoring our 41st Anniversary with a Playbill Ad will have a direct impact on our ability to offer educational programs, productions, and partnerships in the coming year. It will help us maintain our historic Opera House and expand our cultural and economic impact.
Our Playbill/Season Brochure will again be our traditionally sized program, 5.5" by 8.5" to help us distribute more of them at every event and performance we offer. It will again contain fun, informative articles about Hubbard Hall and the history of our community, guaranteed to reach a larger audience and be looked at again and again. The brochure features more articles about current offerings and other businesses found in and around our region, as well as a village map, making this an invaluable resource guide for residents and visitors alike.
This season approximately 8,500 participants have seen the Playbill and recognized the generosity of our local businesses, our partners, helping them gain the recognition and business they deserve in our community.   
Benefits this year include: Free performance tickets, an opportunity for an employee of yours (or for us, if you prefer) to speak at the top of a performance or event about your company's community support, further highlighting of your support in public schools in workshops and at public events. Through the links below, you will be able to download our ad contract, which shows all of the available ad sizes and prices, as well as more information on Hubbard Hall for All and In-School Programming support levels and company benefits. Hubbard Hall is the largest and oldest arts nonprofit in Washington County, having contributed millions of dollars in activity and thousands of jobs for the local economy since 1978.
The Playbill is again being designed by Sara Kelly Graphics. We can offer ad design for free – let us know if you'd like to take advantage of this. Even better, if you were in our Playbill last year, we can re-use the same ad design for you if you prefer.
Please submit your contract or questions to Judy Pate at playbillads@hubbardhall.org

Hubbard Hall Ad Sizes and Contract Form
Click here to see the benefits for each level of Sponsorship
If you have previously advertised in our Playbill, we will contact you soon by e-mail or expect to receive a call from one of our Board Members, Staff or Volunteers! If you placed an ad in this seasons Playbill, thank you for your continued support!