Hubbard Hall Home for the Holidays
Come join us for our 25th Anniversary Hubbard Hall Community Holiday event: Home for the Holidays.  It's a very special celebration of the farming heritage that is at the heart of our community.  The pandemic need not keep us apart in spirit: we're bringing the singing and dancing and stories to you online.  We'll hear from some neighbors, explore some of our favorite local traditions, and reflect on why this beautiful region that we call home is such a special place. You can also download recipes and a special hometown ornament! Come join us!  Tickets $10 per household. Access link and password required to see the online event. Video run time 54 minutes.
Video access valid through January 1st, 2021.
Sponsored by the

Maple Walnut Raisin Pie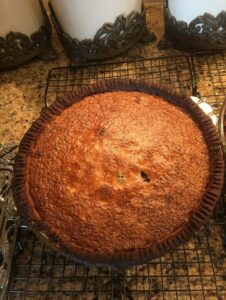 1 unbaked nine inch pie crust
Preheat oven to 375 F
Beat together 4 eggs and 3/4 cup maple syrup
Add: 1/4 cup sour cream, 2 cups walnut pieces, 1 cup raisins,
1/2 tsp salt, pinch of cinnamon & 1/4 cup melted butter
Pour into unbaked crust and bake for 25 to 30 minutes until brown and set.
Shortbread as served at Hubbard Hall events for many years
Ingredients: 1-1/4 cups flour, 1/4 cup sugar, 1 stick butter (or margarine if you must)
Line a 9 inch cake pan with aluminum foil.
Blend ingredients only until it begins to hold together and is no longer crumbly, then press into the prepared pan with your hands. Press with a fork around the edge and prick in center. You may add 2 Tbsp chopped nuts at this time, pressing into surface.
Bake at 350 for 20 to 30 minutes or until golden brown, checking frequently. Immediately upon removing from oven, sprinkle with granulated sugar and cut into slices. Cool partially in pan, then remove to cool completely before wrapping.
Caribbean Rice and Beans
Soak 1 pound of red kidney beans in plenty of water overnight. Chop 1 large onion, 1 bell pepper, 2 cloves garlic and add to beans in a heavy pot. Cook until tender with plenty of water. Add 1 can coconut milk (13.5 oz), 1 Tbsp salt, 1 tsp ground black pepper and 1/2 tsp thyme. Add 4 cups of rice and cook over gentle heat until the liquid is absorbed. Fluff with a fork and add enough more water to be sure the rice is cooked.
Scottish Oat Cakes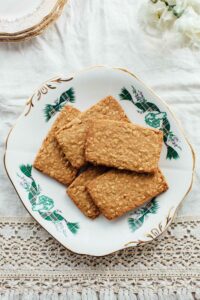 Mix 1-1/2 cup fine Scottish oatmeal, or regular rolled oats which have been pulsed lightly in a blender
1/2 cup whole wheat pastry flour, or gluten free mix, 1 tsp sugar, 1/4 tsp salt, 1/4 tsp baking powder
Cut in 1/4 cup (half stick) butter until it looks like coarse corn meal
Mix in 1/4 cup boiling water, adding up to another 1/4 cup just until you can form a crumbly ball.
Roll out directly onto a piece of parchment on a baking sheet, salt if desired and cut into squares.
Bake at 325 for about 25 minutes
Icelandic Ginger Cookies
Cream 1 cup butter and 1-1/2 cups sugar, and then add 1 egg and beat together.
Add 1-1/2 Tbsp finely grated orange peel, 2 Tbsp dark corn syrup, 1 Tbsp water.
In another bowl combine 3-1/4 cups flour, 2 tsp baking soda, 2 tsp cinnamon, 1 tsp ground ginger, 1/2 tsp cloves
Mix butter and flour mixtures and stir until a dough forms, gather into a ball and chill several hours or overnight.
Preheat oven to 325 F
Turn dough out onto a floured board and roll to about 1/8 inch thick. Cut with cookie cutters and bake on a parchment covered baking sheet for 8 to 10 minutes, until set but not too browned.
World Peace Cookies from Dorie Greenspan
Cream 1 stick plus 3 Tbsp butter with 2/3 cup light brown sugar and 1/4 cup white sugar. Add 1 tsp vanilla
In another bowl combine 1-1/4 cup flour, 1/3 cup unsweetened cocoa, 1/2 tsp baking soda and 1/4 tsp salt
Combine the butter and flour mixtures and add 5 ounces of chopped bittersweet chocolate.
Form into 2 logs, wrap in waxed paper and chill for a minimum of 3 hours or freeze up to 3 months.
Preheat oven to 325 F and cover baking sheets with parchment
Slice logs into 1/2 inch rounds and move to sheets, pressing together any that fall apart
Bake for just 12 minutes. They won't look quite done, but that's right!
Designed by Carol Serotta
What to Expect when you buy an online ticket.*
After you purchase your online access, you will be sent an email confirmation from Hubbard Hall.
This email will include a link to the video and the password you will need to run the video.
You will need standard internet access to watch the video. If the video is pausing a lot, you may need a stronger connection.
Hubbard Hall videos are shown via our Vimeo account. Clicking the provided link will take you to this page; you do not need your own Vimeo account to access.
The video is available from the time you purchase through January 1st, 2021.
Vimeo FAQs
What is Vimeo?
Vimeo is similar to YouTube but without the advertising. Hubbard Hall has its own account on Vimeo.
Can I stop and start the video?
Yes – as long as you are within the viewing period noted above. Just like other videos you watch, you can pause and come back.
Can more than one person watch the video with the one passcode?
Yes. Multiple viewers can watch with the one passcode, but please remember all ticket purchases were per household. Consider purchasing additional tickets to support Hubbard Hall if more people than expected will be watching. Thank you.
Can more than one person watch it at different times?
Yes, you can watch it at different times, in different places, or all in the same house.
Can I go back and watch it again after I've viewed it once?
Yes, you can watch it more than once from the time of your purchase through January 1st, 2021. You can also pause and restart later, just like a DVD.
What if I can't get it to work?
You can call Hubbard Hall at 518-677-2495, ext. 314 or e-mail info@hubbardhall.org and we will try to help you.
*Based on an online FAQ page by WAM theatre.