Our 40th Anniversary Season!
OPERA
Many thanks to our Artists, Musicians, Supporters, and Patrons who made Opera 2017 happen!

L'elisir d'amore
(The elixir of love)
August 2017
Gaetano Donizetti
Directed by: Andrew Nienaber
Conducted by: Maria Sensi Sellner
Hubbard Hall Mainstage
Photo Album
Video: Una Furtiva Lagrima
Berkshire Onstage Review: "I can't remember ever having so much fun at an opera."
The Troy Record Review: " The material is fun, the singing brilliant, the staging clever and the orchestra lush."
THEATER MAINSTAGE
The Mystery of Edwin Drood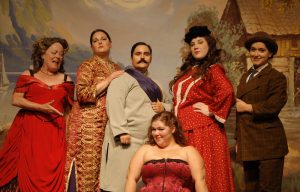 A New Version of this Tony Award-winning Musical Comedy! A Family Friendly Musical Murder Mystery! A part of Christmas in Cambridge!
Book, music, and lyrics by Rupert Holmes
Based on the unfinished novel by Charles Dickens
Directed by David Snider
November 17-December 3, 2017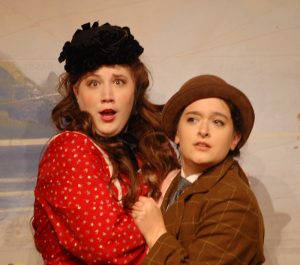 This wildly funny show won the Tony Award for Best Musical and has some of the most gorgeous music and lyrics heard on stage in decades. Based on Dickens' last, unfinished novel and murder mystery, creator Rupert Holmes has written a new Chamber Version of the show specifically for Hubbard Hall, complete with local references! The show stops just before the murderer is revealed – and the audience, chooses who done it! The results are different at every performance – and just like the fun with The 25th Annual Putnam Spelling Bee, the audience is part of the show!
The Tarnation of Russell Colvin
A one-man tour de force about a local, real-life murder mystery.
Written by Oliver Wadsworth
Directed by Kirk Jackson
January 19-28, 2018
From the team that brought you The Book Club Play comes an original murder mystery based on a true story in nearby Manchester, VT. In 1812 Russell Colvin was murdered. His ghost haunted Manchester, VT, until the murderers were brought to justice. Playing more than a dozen roles in this extraordinary piece of theater, Oliver Wadsworth takes us on an adventure both local and cosmic, as we follow his pursuit of the truth – to find who murdered poor Russell Colvin – and why.
The Velocity of Autumn
A hilarious, heartfelt Broadway comedy about what happens when life becomes too hard to handle.
Starring Christine Decker & Oliver Wadsworth
Written by Eric Coble
Directed by David Snider
February 23-March 11, 2018
Alexandra, a retired painter, has been told she must move out of her house and into a retirement home.  As the play begins, we find her at home in her Brooklyn brownstone, surrounded by Molatov cocktails, ready to ignite them and go out in a blaze of glory rather than be taken from her home.  Just as she's about to light the place up, her estranged son Chris climbs into the second-story window: "Hi, Mom."  So begins a hilarious and harrowing comedy, that explores the roadblocks we all experience in life and asks the eternal questions "who will remember us once we're gone?"
Cambridge Central School Drama Club Musical – The Sound of Music
Another Broadway-smash musical, produced with our resident youth drama club.
Dates: April 20-22, 27-29, 2018
From the young artists who brought you The Fiddler on the Roof last spring comes another Broadway hit that's sure to put a spring in your step.  Final title will be determined by late fall.
Children's Theater
Broadway: the Next Generation! 
January 20 & 21, 2018
Hubbard Hall Youth Theater with Virginia May Edinger
Moonlit Melodies 
October 20 & 21, 2017
A CCS Drama Club and Hubbard Hall Youth Chorale Fall Cabaret
Conducted & Directed by Kyra Fitzgerald
Accompanied by Michael Garvey  Photo Gallery
How to Eat Like a Child: And Other Lessons in Not Being a Grown-up 
July 21 & 22, 2017
Youth Company
By Judith Kahan & John Forster
Directed by Virginia May Edinger  Photo Gallery
Miscast Cabaret
Saturday, July 15, 2017
A night of your favorite Broadway Hits, with a twist!
Accompanied by Michael Gallagher
Hosted by Digby Baker-Porazinski & Erin Ouellette
Photo Gallery
Where the Wild Things Are
July 6, 2017
A play adapted from the story by Maurice Sendak, used by permission of The Wylie Agency LLC.
Directed by Digby Baker-Porazinski  Photo Gallery
MUSIC
The Roadside Blues Band
September 30, 2017, at 7pm
Featuring the dynamic vocals of Bill Lanchantin and soulful strains & rhythms from Mitch Throop, Michael Krauss, and Peter Maine, this special concert performance always gets you movin' and groovin'!
The McKrells
November 4, 2017, at 7pm
Singer/Songwriter Kevin McKrell has toured extensively in both the US and Ireland with his unique celtic bluegrass sound. An Irish and Folk Festival top-pick, we were thrilled to have him and his band at Hubbard Hall.
The McKrells' Christmas Show
December 10, 2017, at 4pm
Kevin McKrell returned to Hubbard Hall for a charming Christmas Show; a perfect blend of storytelling and music that was amusing, sentimental, and full of Holiday Cheer, and featured his popular celtic and bluegrass song-style.
A Bob Warren Cabaret
February 10, 2018 at 7pm
Bob Warren and special guests came back to the Hall and joining him this time were Take 2, Huxtable, Christensen and Hood, Michael Jerling, and The Men o' War Balladeers. This show offered an entirely new line up of songs.
SPECIAL EVENTS & FUNDRAISERS
Holiday Breakfast – Jerusalem: The Heart of the World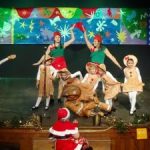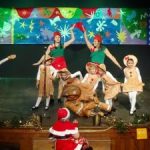 December 9, 2017 at 9am and 11am
Our 22nd Annual Holiday Breakfast continued to celebrate holiday traditions around the world with food, dance, music, and holiday specialties from various cultures!
Hubbard Hall's 40th Anniversary Gala
May 19th, 2018, 7pm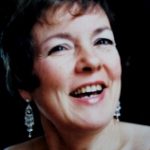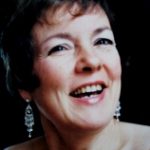 This years annual Gala, honored Battenkill Chorale Artistic Director, Janet McGhee as she was this year's recipient of the Hubbard Hall Making Art and Community Happen award.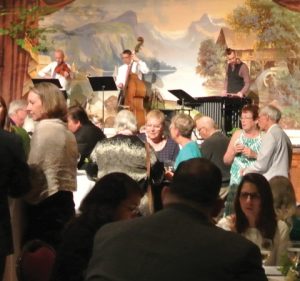 This is our biggest fundraiser of the year and a time to come together and celebrate our swing into spring! There was delicious food catered by Round House Bakery Cafe, an online sale for some amazing items, gorgeous music provided by David Cuite's Freight Yard Quartet and a relaxed atmosphere of community and camaraderie.