OPERA
Tosca – Performed by the Middlebury Opera Company – SOLD OUT!
Thursday, October 17th, 2019 at 7 pm
Founded in 2004, Opera Company Middlebury (OCM) is entering its 16th season of sold-out performances. Using a mix of Vermont talent and professional singers from across the country, OCM is recognized as one of the most important small opera companies in the nation. OCM came to Hubbard Hall for the first time with their full production of the legendary opera Tosca. OCM Vermont
THEATER MAINSTAGE

Hamlet Performed by The Will Kempe Players

Why Hamlet in 2019?
What do you do when you realize everything you know may be wrong? What do you do when loved ones betray you? What can a citizen do when the government systematically covers up wrong-doing? Where can one go to reliably determine truth? These are not only Prince Hamlet's dilemmas in the 17th century; they are ours in the 21st. How do we find our way out of the ancient (and contemporary) cycles of revenge and annihilation?
About Will Kempe's Players Cooperative
Now in its third season, Will Kempe's Players Cooperative stages Shakespeare's plays in a manner that echoes the stagecraft of the sixteenth and seventeenth centuries. As such, WKP productions tour exclusively, playing everywhere from traditional theaters and outdoor stages to park groves and other "found" spaces. The performers share common space and lighting with the audience, using evocative text, props and scenery to engage the audience directly. WKP productions feature rich costumes, expert swordplay, music, dance, and clear story-telling.
Spoon River Anthology by Edgar Lee Masters
Performed by the CCS Drama Club
Friday, October 18th & Saturday, October 19th at 7:30 pm and Sunday, October 20th, 2019 at 2 pm
Directed by Katherine Danforth
Our resident Cambridge Central School Drama Club presented this classic by Edgar Lee Masters. Similar to Thornton Wilder's Our Town, Spoon River Anthology shares a window into the past, while highlighting the glories, humor and tribulations of everyday life.
The New York Neo-Futurists
Saturday, November 2nd, 2019 at 7:30 pm
The New York Neo-Futurists returned to Hubbard Hall with their hit show The Infinite Wrench. 30 plays in 60 minutes – all new and picked by the audience. Prior to the show The New York Neo-Futurists also offered a Writing & Performance Workshop! held on Saturday, November 2nd, 2019 at 1pm
Faith Healer by Brian Friel
Directed by Jennifer Williams
Friday, November 15th through Sunday, November 24th, 2019 (6 performances)
Fridays and Saturdays at 7:30 pm. Sundays at 2 pm
Considered one of Brian Friel's greatest works, Faith Healer is a haunting drama told through a series of monologues. Confusing memories of events past are recounted by itinerant faith healer Frank Hardy, his wife Grace, and his manager Teddy. It is a story filled with contradictions, and the audience must decide who is telling the truth and what really happened in the end. The Little Terrible Theatre of Cork came to Hubbard Hall all the way from County Cork, Ireland, for this co-production of a classic play about life and the struggle to live it. The Little Terrible Theatre of Cork is a small, independent theatre company based in West Cork, Ireland. The group's members have been involved in productions throughout the Republic of Ireland and Northern Ireland, most recently winning several acting and directing awards during the 2018 All Ireland Drama Festivals. Performing a range of plays from classics of the Irish and English theatre to avant-garde works by newly emerging playwrights, the group strives to provide an eclectic and entertaining experience for its audiences.
Stupid F*%king Bird by Aaron Posner
Directed by Kirk Jackson
Inspired by Chekhov's The Seagull
January 24th – February 2nd, 2020
Fridays and Saturdays at 7:30 pm. Saturdays and Sundays at 2 pm
From the director who brought you A Walk in the Woods and The Book Club Play, Stupid F*%king Bird is a hilarious explosion and adaptation of Chekhov's The Seagull. "…an accessible and unfailingly delightful jaunt into misery (or maybe we should say compromised happiness). It's absorbing in its every glance and revealing in its every sigh." —Washington City Paper. Appropriate for ages 15 and up due to adult language and content. Sponsored by Bennington College and M&M Digital Printing.
MUSIC
 Village Harmony Teen Ensemble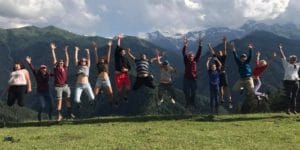 Monday, July 8th, 2019
The twenty-four brilliant teen singers from eight states plus Bosnia are led by Larry Gordon, Sinead O'Mahoney and Scott Sexton. The three teens from Bosnia-Hercegovina participated in the Village Harmony singing camp in Bosnia the previous summer, and Village Harmony has provided them full scholarships to participate in this program. The concert included an eclectic mix of traditional songs from South Africa, Ghana, Bosnia, Georgia, Corsica and Galician Spain, American shape-note and gospel songs, and a French baroque psalm setting, Nisi Dominus by Antoine Charpentier. Ensemble members accompanied some songs on fiddles, flute and keyboard. Natalie Brierre, a Village Harmony alumna who has been living in Galicia in northwest Spain for the past three years lead several Galician songs with dynamic rhythmic accompaniment by a chorus of tambourines. For more information visit www.villageharmony.org.
HOT! The Songs of Cole Porter – Seagle Music Colony
Saturday, October 5th, 2019 at 2pm and 7 pm
The company who brought you The Falling and the Rising last season returned with two performances of some of the best music in the American canon, written by the one and only Cole Porter!
Coig
Sunday, December 15th, 2019 at 6pm
After a sold out concert last year at the Hall and a hit tour throughout the UK, Coig returned to Hubbard Hall with their addictive style of fun, thrilling acoustic Celtic music from Nova Scotia.
SPECIAL COMMUNITY EVENTS & FUNDRAISERS
Hubbard Halloween Ball
Saturday, October 26th, 2019 at 6pm
In support of Hubbard Hall Arts Education programs, the Hubbard Halloween Ball gives youth and adults alike a chance to get down, get funky and dance the scary night away. Presented in partnership with the Cambridge Youth Commission. Sponsored by Brown's Brewing Company
24th Annual Holiday Breakfast
Saturday, December 7th, 2019 at 9am and 11am
Our annual holiday celebration at Hubbard Hall. Each year we focus on a different country and the ways people in that country celebrate the holidays. This year we explored the culture and food of the Balkans.