Find them at the Old Fire House 11 W. Main Street in Cambridge every Sunday through December 17th, 2023  from 10:00 am – 1:00 pm
Then every second and fourth Sunday January – April 2024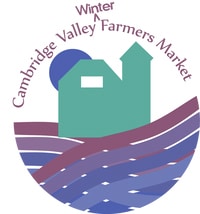 The Cambridge Valley Farmers Market has been providing farm fresh food to the Cambridge area since 2003.  They are a producer-only market and the majority of their vendors hail from Cambridge and adjacent towns.  During the pandemic, they became a year-round market, operating two markets a month January-April.
After several moves, the summer market moved to Owlkill Commons (by the green footbridge) in May 2023.  The hope is this will be their forever home.  This park has been acquired by their sponsors at the Cambridge Valley Community Development and Preservation Partnership. The market is made possible by vendor fees and the generous contributions from the community and patrons.
Shop the market, or preorder and pay online in our online store and pickup at market. The online store is open and is found here:
Under the weather? Home delivery of preorders maybe available in the area, contact us at (518) 677-8128 or cambridgefarmersmarketmanager@gmail.com.
The market features plants, fresh vegetables, pork, chicken, eggs, maple products, mushrooms, baked goods, prepared food, and more.
For market news, sign up to be a customer and we'll add you to our email list. You can also follow us on Facebook.
You will be able to create an account and place an order in our online store using your credit card. You'll receive an email confirmation of your order and can add other items until the ordering period closes. Vendors may add more to their inventory during this period as well.
Check out all our vendors here.

Contact Information: Debby Jaffe- Committee Chair  (518) 677-8128  or cambridgefarmersmarketmanager@gmail.com
Mission Statement
Our mission is to provide an opportunity for local farmers, food producers, and artists to sell their products directly to the consumer in a clean, friendly and community oriented environment.
Our Vision
The overall goal of the Cambridge Valley Farmers Market is to continue to build symbiotic relationships amongst our agricultural community by bringing together farms, local businesses, families and organizations to encourage eating and feeding locally. We provide fresh, sustainable food and educational entertainment to the community, while helping to revitalize the business district of historic Cambridge.
See you at the market!