The Farmers Market is Going to School!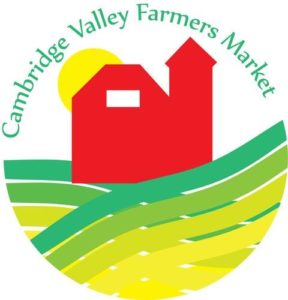 The first farmers market of the 2020 season will take place on Sunday, May 17, from 10:00 am to 2:00 pm. The market is moving to the front parking lot at Cambridge Central School where there is more room for physical distancing and preorder pickup.
Online ordering is now available. To order, go to www.cambridgevalleyfarmersmarket.com and click on "Online Ordering."
You will be able to create an account and place an order in our online store using your credit card. You'll receive an email confirmation of your order and can add other items until the ordering period closes. Vendors may add more to their inventory during this period as well.
Our physical market will continue to operate. Please note that some vendors (518 Farms, Earth Sky Time, Feathered Fox Farm, and Sunhee's Farm and Kitchen) will be preorder only and that Happenchance Farm vegetable plants will not be available for preorder.  Also, in accordance with guidance on essential business, crafts and some body products and crafts will be preorder only.  We'll be adding more vendors as the season progresses. We are anticipating that Earth Sky Time bread will arrive around 10:30am as they need to let it cool before packaging it. This is a work in progress and your patience is appreciated!
If you preorder, you have the option of parking and walking through the market to collect your preorders from the vendors. Please observe distancing while waiting in line. Customers who prefer curbside pickup should pull up alongside the school, show our volunteers a card with the name under which the order was placed, and open their trunk or hatch. The volunteers will collect the orders and place them in your vehicle.
Here's the list of vendors (so far) for summer 2020. Please note that some vendors and products are preorder only and a couple of farms are joining in late May/early June. Also find information about the market and a link to the online store on the market's home page. The store is open for ordering from 1 pm Wednesday to 1 pm Friday. 
CVFM Summer 2020 Vendors
These vendors are offering Preorder AND In person Market Sales
Happenchance Farm (Eagle Bridge): Certified Organic veggies and vegetable starts for your garden. Plants at market only.
Liebig's Strawberry Ridge (Middle Granville): Berries, jams, pies, and grass-fed Highland beef (starting late May/June).
Long Days Farm (Cambridge): Vegetables, eggs, and garlic.
Owl Wood Farm (Salem): Salad and cooking greens and other vegetables.
518 Farms (Hoosick): Specialty mushrooms harvested fresh —-
starting May 24 or 31.
Joint Venture Farm (Greenwich): Pork, chicken, and eggs.
Sweetbrier Farms (Salem): Herbal Products and Soap (some products will be preorder only)
Coffee and (Cambridge): English muffins, cinnamon rolls, challah, and other specialty breads.
Pawlicious Pies and Treats (Bennington): Cookies, Scones, and more, portion of proceeds go to Second Chance Animal Shelter.
These vendors are offering PREORDER ONLY
Hickory Wind Farm (Cambridge): Maple syrup Preorder and market sales, crafts.
Lot 32 Flowers (Greenwich): Bouquets (starting midseason)
Feathered Fox Farm (Queensbury): Honey and body products –
alternate weeks.
Earth Sky Time Farm (Manchester): Crusty European-style bread.
Sunhee's Farm and Kitchen (Cambridge and Troy): The best kimchi in the Capital District and other food to take home.
These vendors are available for IN PERSON MARKET SALES ONLY
Slavonian European Cafe (Troy): Pierogi, stuffed peppers, and other family favorites to take home.
Note: Slyboro will not join us this year as they cannot sell their hard cider on school property. Please look for their ciders at the Argyle Brewery.
Those who wish to make their purchases at market are encouraged to use checks or Venmo, or round up if using cash to reduce the need for handling money.  Please send one person to shop for your household and leave pets at home. We'll be monitoring the total number of people for safety.  Vendors will be wearing masks and we ask you to do the same.
Thanks for supporting the market. We can't wait to begin the 2020 season!
Debby Jaffe
Market Chair
cambridgefarmersmarketmanager@gmail.com
Our mission for this year is to get essential food and farm products to our customers safely. As per state regulations, there will be no music or community tents. Prepared food will be for take out only. We ask families to designate one person to shop for the family and leave other family members and pets at home. The vendors will be wearing masks and we ask our customers to do the same.
We are looking for a few healthy people who would like to volunteer to deliver preorders to cars and help monitor traffic every Sunday. If you are interested, please email cambridgefarmersmarketmanager@gmail.com.
A big thanks to Cambridge Central School for making this possible.
See you at the market!