Valley Artisans Market is open Wednesday – Sundays 10am-5pm!
Valley Artisans Market is celebrating 41 years in Hubbard Hall! This innovative artists co-op is one of the oldest in the United States and continues to serve artists and our community with great work. Join us in celebrating this milestone by stopping by and buying some great artwork! 41 years and never better!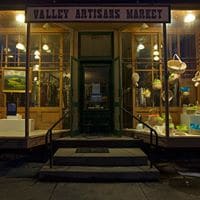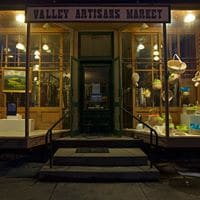 Valley Artisans Market was established by local artisans and craftspeople in 1981 as a retail venue for artists and craftspeople of the Cambridge Valley and neighboring communities. The store and gallery were originally designed as a dry goods store. The store area retains the original chestnut shelving and hardware. The interior walls are wainscoted, made of an extinct local chestnut milled onsite during the construction of Hubbard Hall, in 1878.
Located in historic Hubbard Hall in Cambridge, NY, and amidst the rolling hills of Washington County in upstate New York, Valley Artisans Market is one of the oldest arts cooperatives in the country. Local fine artists and craftsmen work in a variety of hand-crafted media including glass, paper, cloth, photography, oil paintings, pastels, wood, mosaic, sculpture, metal, jewelry, ceramics and more. The Small Gallery features rotating shows by members and guest artists, and the market is always staffed by one of its artisan members.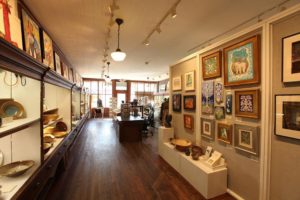 VAM is located at 25 E.Main Street in Cambridge, NY. For more information, please call the Gallery at 518-677-2765 or visit their Website or find them on Facebook.
The  wearing of  masks is optional. Thank you!
Open Wednesday through Sunday 10:00 am – 5:00pm or