VAM has re-opened with COVID-19 protocols in place and new hours.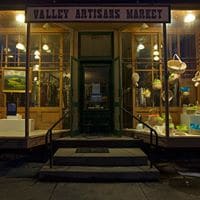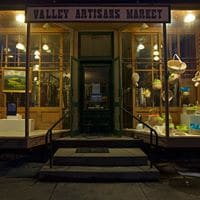 Valley Artisans Market was established by local artisans and craftspeople in 1981 as a retail venue for artists and craftspeople of the Cambridge Valley and neighboring communities. The store and gallery were originally designed as a dry goods store. The store area retains the original chestnut shelving and hardware. The interior walls are wainscoted, made of an extinct local chestnut milled onsite during the construction of Hubbard Hall, in 1878.
Located in historic Hubbard Hall in Cambridge, NY, and amidst the rolling hills of Washington County in upstate New York, Valley Artisans Market is one of the oldest arts cooperatives in the country. Local fine artists and craftsmen work in a variety of hand-crafted media including glass, paper, cloth, photography, oil paintings, pastels, wood, mosaic, sculpture, metal, jewelry, ceramics and more. The Small Gallery features rotating shows by members and guest artists, and the market is always staffed by one of its artisan members.
VAM is located at 25 E.Main Street in Cambridge, NY. For more information, please call the Gallery at 518-677-2765 or visit their Website or find them on  Facebook.

Effective November 1st, 2020
Open Thursday, Friday, Saturday and Sunday 10:00 am – 5:00pm or