The Small Gallery is located between the Valley Artisan Market and the Hubbard Hall offices. Come and see our newly renovated gallery!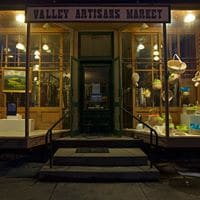 Valley Artisans Market was established by local artisans and craftspeople in 1981 as a retail venue for artists and craftspeople of the Cambridge Valley and neighboring communities. The store and gallery were originally designed as a dry goods store. The store area retains the original chestnut shelving and hardware. The interior walls are wainscoted, made of an extinct local chestnut milled onsite during the construction of Hubbard Hall, in 1878.
Located in historic Hubbard Hall in Cambridge, NY, and amidst the rolling hills of Washington County in upstate New York, Valley Artisans Market is one of the oldest arts cooperatives in the country. Local fine artists and craftsmen work in a variety of hand-crafted media including glass, paper, cloth, photography, oil paintings, pastels, wood, mosaic, sculpture, metal, jewelry, ceramics and more. The Small Gallery features rotating shows by members and guest artists, and the market is always staffed by one of its artisan members.
VAM is located at 25 E.Main Street in Cambridge next door to Round House Bakery Cafe. For hours and information, please call the Gallery at 518-677-2765 or visit their Website or find them on  Facebook.
Join us for one of these amazing art shows and events at VAM! Open Tuesday-Sunday 10 am – 5pm.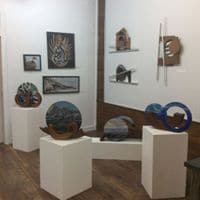 Stu Eichel: January 24 – February 19: Paintings of local architecture, landscapes, machinery, frequently humorous.
Paul Chapman: February 21 – March 18: Photo realistic acrylic paintings of portraits, landscapes, industrial sites, still lifes.
Elizabeth Philips: March 20 – April 14: Pebble pictures – pebbles arranged in frame to form animals, people, abstracts.
Lynne Kerr: April 17 – May 12: Photography – landscapes local and abroad.
Cheryl Gutmaker and Cathy Klompas: May 15 – June 9: Glass and hand-printed textiles.
Kevin Kuhne: June 12 – July 7: Watercolors of urban scenes and animals.