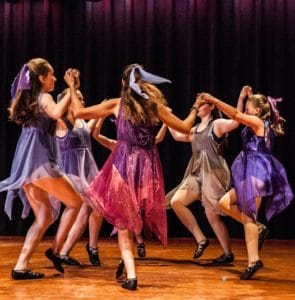 Click for Information about Classes currently offered
SEARCH by category for an available Class to register online

Scholarship Program
Hubbard Hall is committed to making the arts accessible to all.  We have an active work-study scholarship program where students in our dance, movement arts, music, theater and visual arts programs can volunteer time in a variety of ways in exchange for partial-tuition or full-tuition support for classes, workshops and intensives. Work-Study Scholars (or their parents) help with a variety of tasks, from class registration to building maintenance, from sewing costumes to outreach & marketing.
Scholarship Requests are granted for each term of study, and priority is given to applications received by the deadline. Please apply no later than September 4, 2023 to be considered for the Fall Term.  A member of our Scholarship Committee will contact you regarding volunteer opportunities in exchange for tuition assistance. Complete a Scholarship Application or call for more information. Please e-mail the application to david@hubbardhall.org.
Registration & Payment Options
Monthly Automatic credit card or ACH payments: We're easy on your budget! With the convenience of spreading your term tuition over a period of  weeks or months, each charge will automatically appear on your credit card statement or from your checking or savings account on a monthly basis. Call for info or click to download the Payment Authorization Form. Please note a service fee of $2 per payment to a maximum of $10 per term will be charged. No credit or debit card? Submit post-dated checks instead. Call the Program Office for details: 518-677-2495. Office hours are Tuesday through Friday, 10am to 4pm.
Full Term (trimester) Tuition: You asked and we listened! Simplify enrollment with fewer terms per year (Fall, Spring, Summer).  Save $$$ over the monthly rate!
Single Classes:  You will save the most by registering for the full term, but if you prefer to pay singles, you can do that too!  Most single classes are $15 (master classes and special workshops may be priced differently). Single classes can now be purchased online. Please make sure to choose the drop-in class date you want to attend.
Online Registration: Online registration to pay for the full term for classes and workshops is available before a class starts and for the first 2 class dates. Single classes are available to purchase online prior to the class. If you have any questions please call the Program Office at 518-677-2495.
General Program Policies

Makeup Classes — If you miss a class or class is canceled due to weather, please contact your instructor to possibly schedule a chance to make up the class on a future date.
Cancellations and Refunds — Each class requires a minimum enrollment or runs the risk of being canceled.  Please register for your classes in advance so we know there is sufficient interest for the class to run.  In the event that Hubbard Hall cancels a class, all enrolled students will receive a full refund for the remaining classes.
Withdrawing from a Class — All requests for withdrawals or refunds must be made in writing to the Program Office. If you withdraw from a class before the first class meeting your full tuition will be refunded.  After the first class meeting, we will be glad to issue a credit for the value of the remaining classes in the term (minus the single drop-in rate for classes that have already taken place).  Autopay participants make a commitment to the entire term; early withdrawal requests must be made in writing 30 days in advance and will be charged a $10 processing fee.
Proof of Vaccination and Masks No Longer Required
Masks will be optional for any and all attendees, in classes and audiences. If an artist or instructor wants attendees to wear masks, because of that artist or instructor's health risks, they may request that attendees wear masks and Hubbard Hall will communicate that request to attendees. Students and professional artists are able to rehearse and perform without masks or health screenings.

Weather or other Cancellations — Hubbard Hall follows the weather delays and cancellations of Cambridge Central School during school days, and at the discretion of the instructor on weekends/holidays.  For afternoon/evening classes, occasionally weather conditions improve to allow classes to resume.  Be sure to follow Hubbard Hall on Facebook or Instagram for the latest announcements.  Speak to your instructor about rescheduled class dates. Click here to check if a class has been cancelled,  or check our Facebook page or check the Calendar.